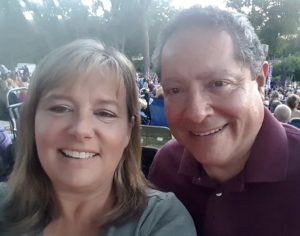 Pastor Dominic Francese
Dominic was raised as one of five children in a family with a passion for music and the arts. He and each of his siblings were trained as vocalists and instrumental musicians. Dominic thought he was on his way to becoming a recording artist as he, his brother and friends played in a popular rock band with a local following, eventually obtaining a contract with a popular record label.
All of that changed when Dominic looked for deeper purpose in life and encountered Jesus Christ.
From that point on, Dominic sought the Lord and realized the life-changing power of Scripture found in both the Old and New Testaments of the Bible. To further his knowledge and understanding of God's Word, he attended Regent University's School of Biblical Studies earning a Master's Degree.
He started his ministry journey as a Family Pastor in a local church before joining Cru (Campus Crusade for Christ). As part of Keynote, the ministry arts division of Cru, he traveled as a performing artist and minister to families presenting family concerts and delivering many invitations to follow Jesus.
He has since served as pastor, teaching in a way that brings many to a deeper understanding of Scripture and closer relationship with God.
And, along the way, he created an online family ministry (Biblepop.com) and initiated a local Cowboy Church outreach ministry as part of Artists in Christian Testimony International (A.C.T. Intl). Both ministries continue today.
He and his wife are parents to three adult daughters and one making her way through high school. They are caregivers to two cats with a third, stray cat currently trying to adopt them. They enjoy kayaking, hiking and horses. Their passion is to connect people to God, communicating the message of God's grace through faith.